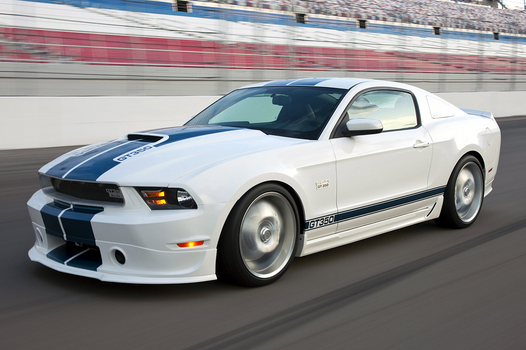 Shelby American launched a brand new Mustang GT350 with the occasion of 45 years anniversary of the original Shelby GT350, they said that this is the best way to celebrate something like that. Of course this new Mustang GT350 comes with some upgrades, it has a supercharged version of the new V8 (5.0 litters), and a few other upgrades made by companies like Borla, Ford Racing, Cragar, Baer and a couple more.
Carroll Shelby took the opportunity and reminded us that Ford Motor Company ask for help from Shelby American having the objective to transform their Mustangs in powerful racing cars to rise up the selling's. The original GT350 went out of production in the year 1970.If you look at the pictures you will notice that this new Mustang GT350 comes equipped with a new body kit.

This improved body kit is very aggressive, and under the hood doesn't have less than 500 horse power. Also Ford Racing modified the suspensions for a better behavior on the track, and they took care of the brakes and the evacuation. Maybe you wonder how much costs one of these, well, without 33.995 $ this new Mustang GT350 won't be yours.