The Japanese-based tuning company Liberty Walk has recently unveiled its latest creation, carried out on the newly-arrived 2022 Toyota Land Cruiser 300 Series. The model got an extreme wide-body kit, along with some mild customizations inside the cabin as well.
As you already know, Liberty Walk deals with extreme body make-overs, carried out on a lot of sports cars, supercars, trucks, and now we get to see it on Toyota's all-new Land Cruiser flagship, the imposing 300 Series.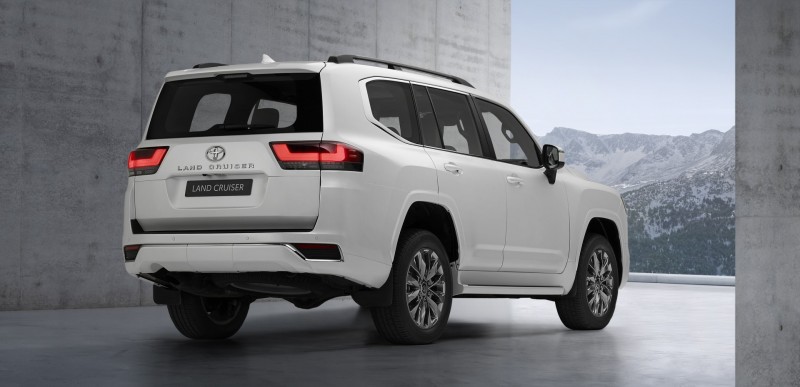 It's not like we are not accustomed to tuned-up SUVs, but this particular one is already one of the biggest on the market, so dealing with customizations around its body, would only make it look extremely ridiculous and outrageous. However, the technicians from Liberty Walk know their business and eventually, this project turned out quite well.
As we can see from the photos below, the work around the car's body is a real masterpiece, and we can instantly spot the tuner's signature on the big wheel arch flares and massive wheels.
Starting with the front, there is a new arrangement for the grille with the tuner's badge, while the black mesh section in the middle provides a rather sinister look. Down below, you can also observe the sharp chin spoiler.
Moving to the sides, the technicians have installed a set of integrated skirts, while the back of the car received a lot of goodies, such as twin rear spoilers, in-house custom-built rear diffuser with massive exhaust tips which depicts increased power and torque.
There are also other stand-out elements that increase the car's personality and aggressive attitude, like a carbon fiber bonnet, neat air vents in the backs of the massive wheel arches, and a new set of alloy wheels for improved corner stability at high speeds.
Speaking of high speeds, this custom-built ride by Liberty Walk has not received any modifications under the hood. This means that it still comes with a 3.5-liter V6 twin-turbo petrol pot, with an impressive 305kW and 650 Nm of torque. In Australia, however, the 2022 Toyota Land Cruiser 300 Series is powered by a 3.3-liter V6 turbo-diesel engine, with 227kW and 700 Nm of torque. The power is linked to a ten-speed automatic transmission.
Back to the project, Liberty Walk has also announced the availability of three kits, each one coming with its own price, depending on the body parts you want. So, you can choose between Light, Full and Premium packages. As for prices, all we know so far is that the standard kit, which is Light, will empty your pockets for at least $24,785, which is not cheap if we consider the car's starting price of $89,990. The front and rear spoilers, and wide body fenders alone cost $7,937.
As a reminder, Toyota's brand-new flagship had its world's premiere back in June, in Belgium, and is considered by the Japanese automaker that type of SUV that goes "anywhere and everywhere", and brings you "back safe and well", which is a reminder of the car's most advanced safety features. The model also reinforces the company's credentials for Quality, Durability, and Reliability (QDR), along with improved off-road performance or on-road capability.