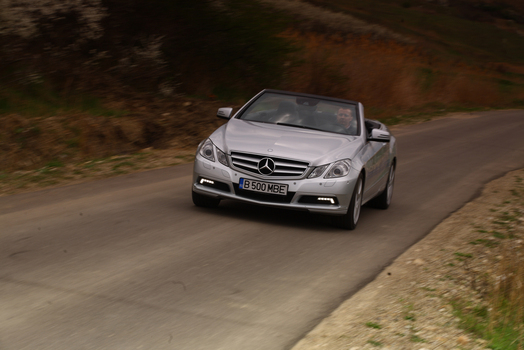 What we have here is a new creation from Mercedes called E500 Cabrio, this version being built on the platform like C-Klasse. This E class limousine was built at Sindelfingen, its platform being different compared to the one from Cabriolet, being obviously heavier. From the dynamics point of view the differences between Cabriolet and Coupe are very small, the same is between Coupe and a limousine.
Actually what we have here, Mercedes-Benz E500 Cabrio is the best cabriolet with four seats ever built by a Mercedes. If CLK Cabrio was a heavy car and weak from the motorization point of view, with this new version the situation is different. On the C-Klasse platform, Mercedes mounted the engines from E limousine including the 500 top of range.
If you want something more, there is available for you the AMG design package optionally available for 2.321 euro with TVA, this package changes totally the car's appearance. This Mercedes-Benz E500 Cabrio comes equipped with a V8 engine developing 388 horsepower and a maximum torque of 530 Nm. The car accelerates from 0 to 100 km/h in just 5.3 seconds.