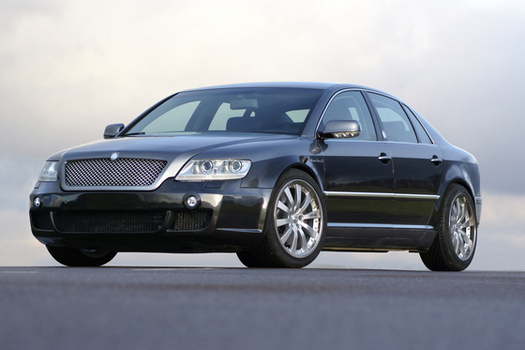 Like the title is saying we have here a Volkswagen Phaeton tuned Bentley style, which with the occasion of Beijing Auto Show 2010 Volkswagen presented this new creation. The tuner is Hofele and they realized a couple of months ago an aesthetic kit for Phaeton, also they made some technical modifications all having the result of what you see in the pictures.
From start you notice the resemblance with the Bentley limousines, that's because the radiator grille looks now like the one from a Bentley Continental. The interesting fact is that the grille of a normal Phaeton (without facelift) ends at the inferior level of the headlights, now those from Hofele extended the grille "biting" from the spoiler. At a quick look you have the impression that you are looking at a Skoda Superb.
Like I said above, Hofele also improved the motorization. The weakest engine, I'm talking about the TDI engine at 3.0 liter capacity, has now the power increased from 225 horsepower to 265 horsepower. For the top version, the W12 engine at 6.0 liter, Hofele raised the power from 450 horsepower to 480 horsepower.