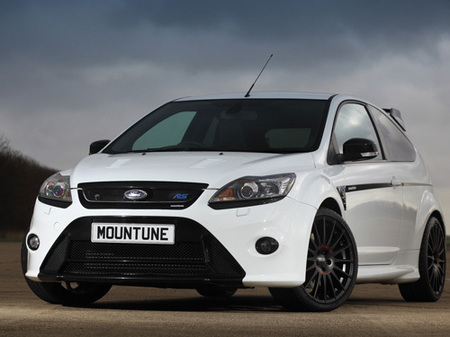 If you are the happy owner of a Ford Focus RS I have good news for you, now the possessors of the actual generation of RS at 305 horsepower have now access at a performance upgrade package approved by the producer. The power increase is pretty significant, I'm talking about a power increase from 305 horsepower to 350 horsepower and a torque of 460 Nm.
At this point the package called MP350 is available only in Britain (the service will extend in the whole Europe) and is delivered by the Mountune Performance exclusive through a network of Ford dealers. This is the only upgrade for Ford Focus RS approved by the Ford and in the same time is the only package which doesn't affect the standard warranty conditions of the producer.
The changes brought to the engine were made through the selection of this service, are similar with those used for the limited series of Focus RS500 and were developed by the Ford Focus RS engineers team. To be more specific about the engine changes, they added a bigger intercooler, they used a bigger air filter and a better alimentation pomp.