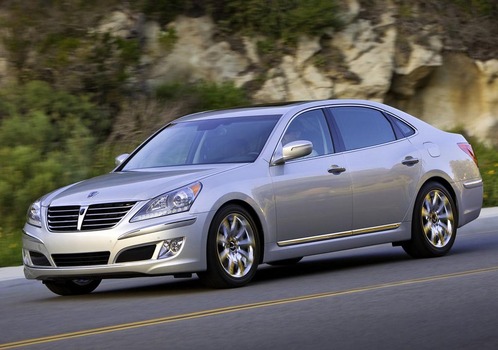 Maybe you belief it maybe not, but in Korea, the first official presentation of the Hyundai Equus was made in the company of Mercedes S Class and Lexus LS, some might say that the Koreans are exaggerating. Maybe this way the Korean builder show's his ambition, competing with the most popular premium brands.
This Hyundai Equus comes with two available engine choices, one is the V6 Lambda at 3.8 liter capacity and the second one is the V8 Tau at 4.6 liter capacity. To improve the engines power, both of them are coming with air induction systems, aluminum construction, continuously variable valve timing and six-speed transmissions.
Also this Hyundai Equus will be available in two wheelbase versions, the short one measuring 5.16 meters length and will be equipped with the V6 engine at 3.8 liter developing 290 horsepower, but also with the V8 at 4.6 liter developing 375 horsepower and the long wheelbase version will have the same V6 but the V6 will have 5.0 liter capacity and will be able to develop up to 400 horsepower. Rumors are saying that the official presentation will be postponed with a couple of months.