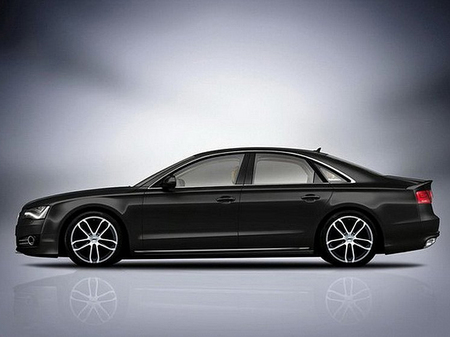 Well, it seems like this Audi S8 will raise the limousines rivalry to an entirely new level coming equipped with the 620 horsepower engine from Lamborghini. If you keep up with the news then you probably noticed that the sport standards of the luxurious limousines raised so much, than the power between 400 and 500 horsepower is no longer impressive.
The previous Audi S8 had 444 horsepower under the hood, but if we take in consideration that BMW 760i and Mercedes S63 AMG got beyond 500 horsepower a long time ago, those 444 horsepower from that S8 are not so impressive anymore. For that reason, according to Car Magazine, Audi wants to come back stronger than ever with the future generation of S8 breaking even the barrier of 600 horsepower.
In order to achieve that performance, they will equip the future Audi S8 with a V10 engine at 5.2 liter capacity taken from Lamborghini which thanks to the straight injection and twin-turbo technology the power can become much more greater, to be more specific it will be able to develop 620 horsepower and a torque of 750 Nm.