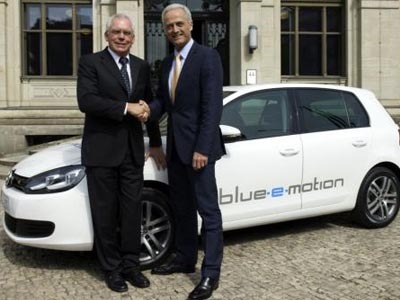 We have here the Golf blue-e-motion concept from Volkswagen. This car receive a fast inauguration in the presence of the German chancellor Dr. Angela Merkel, and let's not forget the special thing about this car, I'm talking about that entirely electric propulsion. Even though this total electric technology was presented on a Golf 6 body, the technology will be built in series on the future Volkswagen Golf 7 in the year 2013.
That electric engine is able to develop a maximum power of 85 kW, that means 115 horsepower, but the maximum torques is bigger, of 270 Nm which is obtained almost instantaneously. The engine is powered by a package of litiu-ion batteries placed centrally under the back seat and in the trunk, like this it's capacity goes from 350 liters to 237 liters.
With all of those being said, the performance of this Volkswagen Golf blue-e-motion is decent, the maximum speed being only 140 km/h and it goes from 0 to 100 km/h in 11.8 seconds, and the autonomy was estimated at maximum 150 km considered enough for 6 out of 10 Germans.