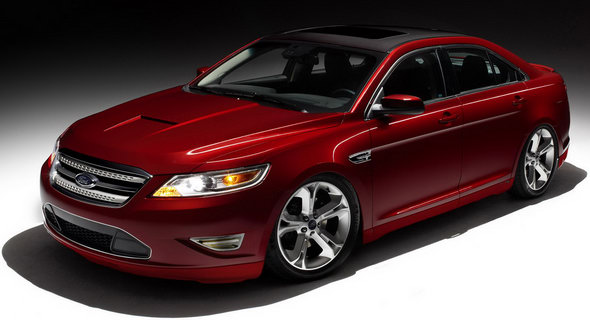 This is a very cool Sedan from Ford and depending from what angle you look this car, it has a futuristic design or a normal day car design. I'm not decided of naming this car a futuristic car or just a normal day Sedan. The best model of 2010 Ford Taurus I think is in the last thumbnail from below.
Of course, 2010 Ford Taurus was presented at the Sema Auto Show from this year but on the internet I couldn't find any photo with this car at that Auto Show, probably didn't pass too much time from the presentation. The 2010 Ford Taurus's paintjob is finished with two tone black and metal grey metal and this car comes with 22 inch wheels and Pirelli tires.
In the first two thumbnails you can see some sketches with tunings of 2010 Ford Taurus but I think that now is too early for these things. It should be launched and then to build some tunings and even sell them to the public. For more informations about this car, just google the title of this post.