The BBR tuning company announced that it did it's magic on the Ford Focus RS MK2, offering a range of four upgrades or phases from which potential customers can choose to upgrade their Ford Focus. Here's a quick rundown.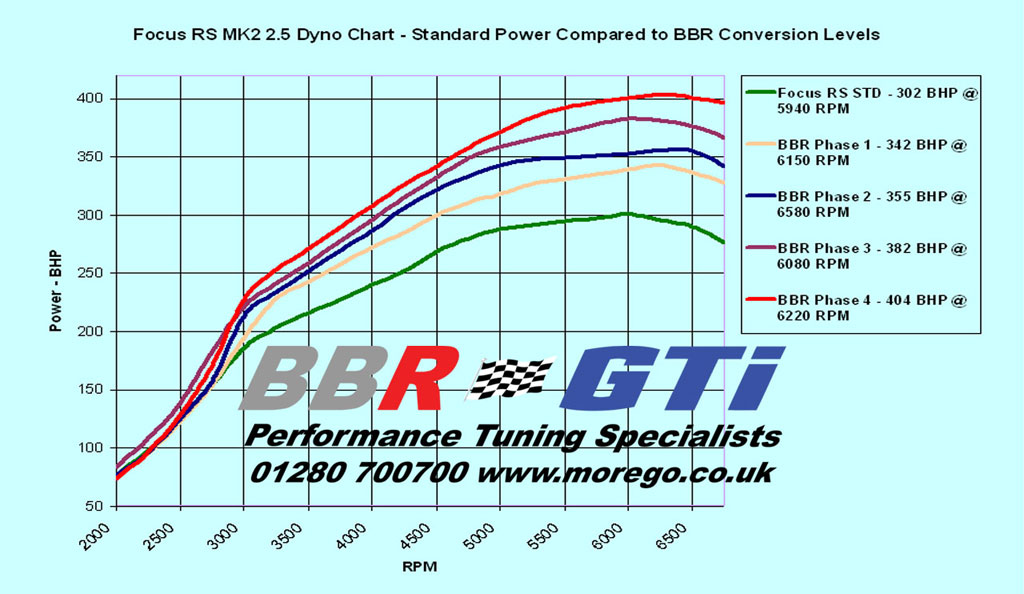 The Phase One upgrade is considered to be an entry level one, consisting of an ECU remapping, but also a changed air intake hose with one made of silicone. Phase One offers 342 hp to play with and 369 ft/lbs of torque. It can either be installed by the customer or by the specialists for 595GBP.
The Phase Two upgrade will net 355 hp and 378 ft/lbs of torque for 1245GBP to which a 195GBP fiting charge is added. Changes include a new flow filter, intercooler plus the Phase One features. It can be installed in four to five hours by a specialist or the customer.
The Phase Three upgrade brings 382 hp to the scene and 388 ft/lbs of torque, costing 2495GBP and 345GBP fitting charge. Includes new fuel injectors, a new exhaust plus the upgrades listed above.
The Phase Four, the last, offers 404 hp and 408 ft/lbs of torque, for 3895GBP plus 595GBP fitting charge. Included are a turbo charger, fuel pump, plus all previous upgrades.