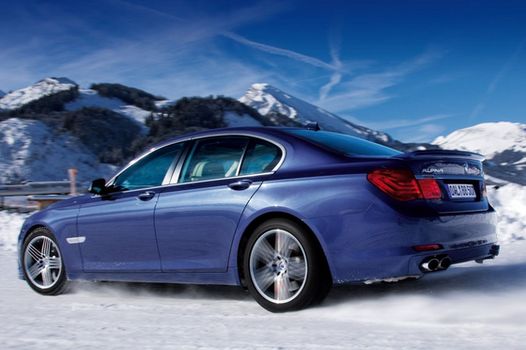 BMW Alpina B7 Biturbo ALLRAD provides a superior control thanks to that four wheels traction and this one is the first Alpina model which combines the power and the sport look at a BMW. The main objective of BMW was to exploit more the potential of the xDrive sport system and this Alpina B7 Biturbo ALLRAD is the result of that.
This model is a more exact limousine in behavior and from the power and dynamic point of view is the same. This BMW Alpina B7 Biturbo ALLRAD hides under the hood a twin-turbo V8 engine at 4.4 liter capacity which is able to develop 500 horsepower and a torque of 700 Nm. This Alpina B7 can reach 100 km/h in just 4.7 seconds.
At this BMW Alpina B7 Biturbo ALLRAD there are three modes to set the dynamic behavior, depending the skill level of the driver. The Comfort Mode sets the suspension in the most relaxing way, and the direction has a more smooth response. This mode is indicated when you meet some more rough atmospheric conditions and you need all the help that you can get.