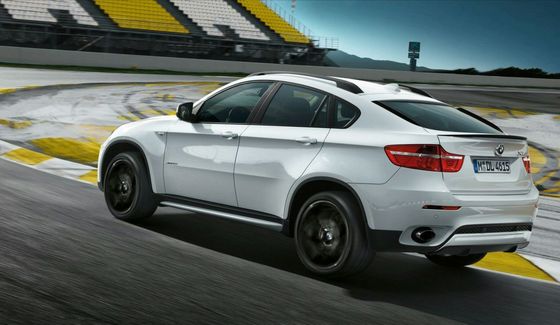 At Geneva Auto Show 2010 will be exposed BMW X6 with Performance Power package, or to use another words, BMW will present their tuned X6. This performance package includes a lot of things, for example interior accessories, suspensions and brake system upgrades, kit for exterior and of course engine upgrades. The price is not known, only at Geneva Auto Show 2010 will be revealed, who knows maybe sooner some spy info will tell us.
When you see the photos you can see the changes from the exterior, the new front spoiler looks cool, the side skirts and the little speaker inside the back spoiler. The exterior is not complete without those 21 inch wheels with special design in "Y". Those wheels are lighter with 1.5 kg compared with other similar wheels.
Under the hood BMW X6 is equipped with a V8 bi-turbo engine which comes with a plus of 41 horsepower, the engine developing a total of 448 horsepower and a torque of 650 Nm (those technical details are from xDrive50i version). The xDrive35i version reaches a total of 326 horsepower and a torque of 450 Nm.