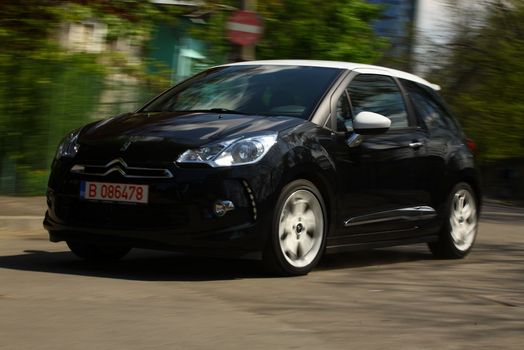 Much agitation took place around the newest Citroen model. They talk a lot about it starting with the initial presentations, then with the international tests and now after a not so long waiting, Citroen DS3 arrived also in Romania. The tested version was a Sport Citroen DS3 equipped with a THP engine at 1.6 liter being able to develop 150 horsepower, black with white roof, mirrors and wheels.
The interior of the Citroen DS3 is shiny black with black leather trim. If you want metalized color you need to pay an extra 310 euro, also for two colors leather trim you need to pay another 1100 euro. The Bellone white wheels of 17 inch with Bridgestone tires costs 350 euro and the MyWay navigation package is another option that costs 1200 euro.
The motorization is pretty good, that engine with turbine develops 150 horsepower and a torque of 240 Nm between 1.400 and 4.000 rpm. From the power point of view, this DS3 is close to a MINI Cooper S, the feeling being of a mini hot hatch, and that's not a bad thing.