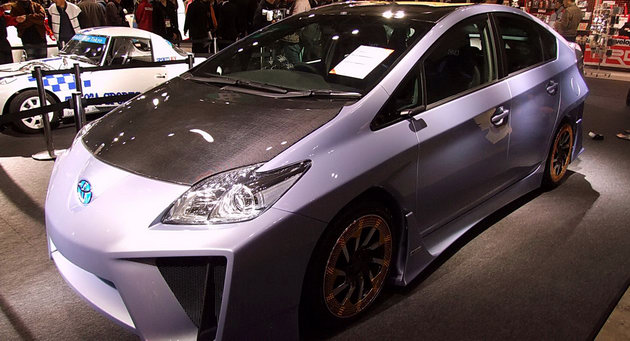 If you go at Tokyo Auto Salon in Japan and you don't find a modified Prius to your taste then you will never find. There were a very large number of customized Prius on Makuhari Messe exhibition center, but Toyota impress us with no two, but three different concept versions of the hybrid model.
Toyota Prius Custom Plus Concept (CCP) made her debut side by side with Prius G Sports and TOM's Prius. As you can see from the pictures, Toyota invested a lot of time and money in this Prius CCP, the body kit is very wide, they equipped it with a large rear wing made out of carbon fibre, new rear bumper and side spoilers.

Toyota Prius Custom Plus Concept also has some cool side skirts and Lamborghini-styled air-vents. Toyota chose to "dress" the car with a carbon fiber hood, the exterior mirrors are also made of carbon fiber, the roof and the trunk door. Despite of this "angry" look the only changes in performance are the sport suspension that lowers the car with 10mm up front and 15mm at the rear and the high performance brake system.