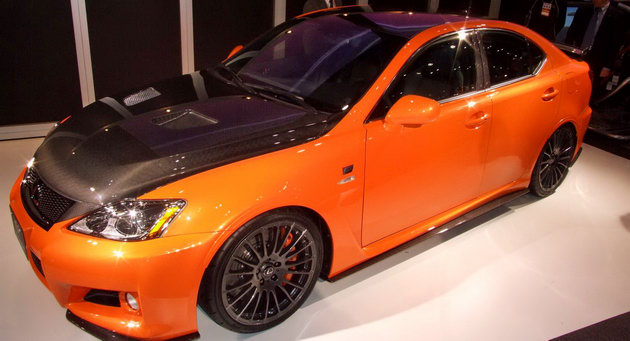 Those from Tokyo Auto Salon are very lucky to have such a work of art, this Lexus prototype will definitely take all the attention for himself, coming with a bright orange color and a large amount of carbon fiber deserve to stay in the spotlights. With all that carbon fiber unfortunately Lexus IS F Circuit Club Sport gain too much extra weight.
When I said that Lexus IS F Circuit Club Sport has a lot of carbon fiber I mean it, the carbon fiber was used for exterior mirrors, trunk, front spoiler lips, also for the newly designed hood, rear wing the rooftop and right down to the rear diffuser. The weight gain was a necessary compromise for a cool looking body.The carbon fiber was also used for the engine cover, steering wheel trim, the transmission lever and in the interior on the door panels.

Other upgrades that were made on the Lexus IS F Circuit Club Sport were the sport suspension, high-performance carbon ceramic brakes, magnesium wheels and sport tires, the seats inside, titanium sport muffler and a new exhaust system. They said that the 5.0 liter V8 engine with 423HP was left like before.