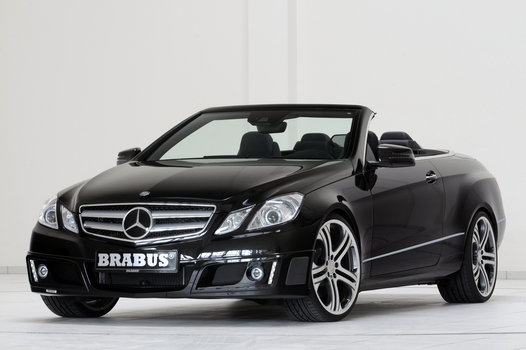 What you see in the pictures is a tuned version from Brabus of the E-Class Cabriolet, the German tuner already provides a complete tuning program of the new E-Class Cabrio, actually for each series motorization there is a Brabus version. The E 250 CDI BlueEfficiency engine is called now Brabus ECO Power Extr D4, which means from 204 horsepower to 235 horsepower and 560 Nm of torque.
The E 350 CDI BlueEfficiency becomes Brabus ECO PowerXtra D6, which also has the increased power to 272 horsepower and 590 Nm of torque. The E 250 CGI BlueEfficiency become Brabus ECO PowerXtra CGI, the power got from 204 horsepower to 230 horsepower and to the 350 Nm of torque was added an additional of 40 Nm.
For the E 350 CGI BlueEfficiency Brabus plans to increase the power with 18 horsepower, and the most powerful model, E500 experienced a cylinder power increase from 5.500 cmc to 6.1 liter. From 388 horsepower they managed to reach 462 horsepower and the original torque value of 615 Nm was increased with 85 Nm, which is pretty impressive.