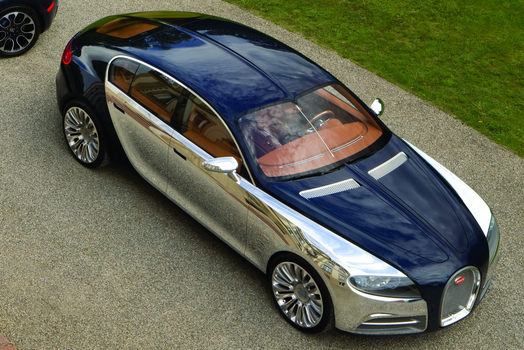 It is settled, this super-coupe called Bugatti Galibier 16C will have its official debut at Lost Angeles Showroom. This new model from Bugatti will really shake the coupes with four door segment. Until now this Galibier 16C was known as Bordeaux and this model will be the counterpart of the Veyron in the universe of the four-door cars.
This Bugatti Galibier 16C comes with a very interesting color scheme in two shades, chromed and black. The shiny part is actually brushed aluminum and the dark color is a material called CFRP (reinforced plastic with carbon fiber). If you take a look at the front side you will see the same horseshoe-type grille, on sides the car has bigger headlights with LED's.
I don't know how to describe the interior of this car with proper words, I guess that the interior of this Bugatti Galibier 16C can be compared with the most luxurious palates from Corsica providing a monarchy armosphere. We found out that this beast will have the same incredible level of performance like Veyron, developing 1001 horsepower and a torque of 1250 Nm.