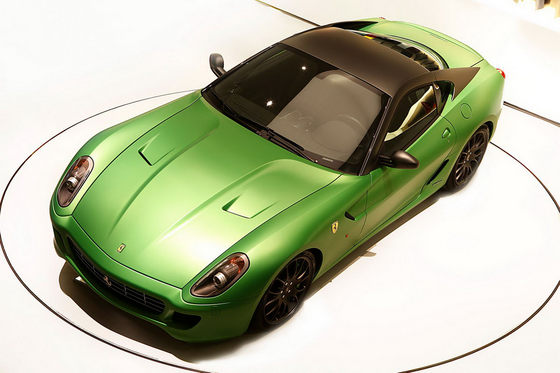 Looks like before her debut at Geneva Auto Show 2010 Ferrari 599 Hybrid gets a little publicity on the internet, so there are the first photos with Ferrari 599 Hybrid. Behind this project lays the experience accumulated in Formula 1with the Kinetic Energy Recovery Systems (KERS) so the hybrid mode will be built around this.
This Ferrari 599 Hybrid will not only use KERS for better performance, the main objective of KERS in this case is to reduce the emissions consumption. So in conclusion it will be used a more powerful electrical engine which will take over the V12 engine with internal combustion, and batteries with greater storage capacity.
If you like numbers I can explain you like this, the contribution of the hybrid component will be to consume with 35% less combustible. Regularly this car would consume 27 liters at 100 km but now it has an consumption of 17 liters at 100 km. Other details are unknown at this point, like the price for example, but all of those will be clarified at Geneva Auto Show 2010 or even earlier.