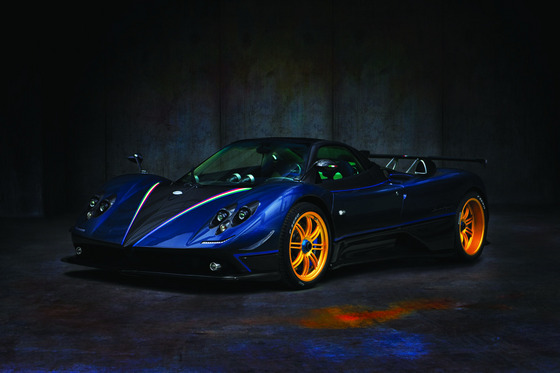 Maybe some of you know that Pagani Zonda is saw as a Italian tradition supercar but now at Geneva Auto Show 2010 will be presented the Pagani Zonda Tricolore version which uses the Italian symbol, the flag. So this Pagani Zonda Tricolore uses a symbol beloved by Italians, I'm talking about the red-white-green colors and above that brings a tribute to the acrobatics Italian team, Frecce Tricolori.
This supercar is based on the Pagani Zonda Cinque version and besides that flag the hood is eye catching thanks to the color given by that polish applied above that carbon fiber, I'm talking about that blue hue. For the interior they used an electric blue color specially to match the interior of an acrobatic airplane.
The price for this Pagani Zonda Tricolore is big, is about the fifth part of an MB-339C airplane which the guys from Frecce Tricolori use it for demonstrations, I mean about 1.3 million euro. The exposure of this Pagani Zonda Tricolore will take place in Italy and I'm sure that will attract visitors from a lot of places.