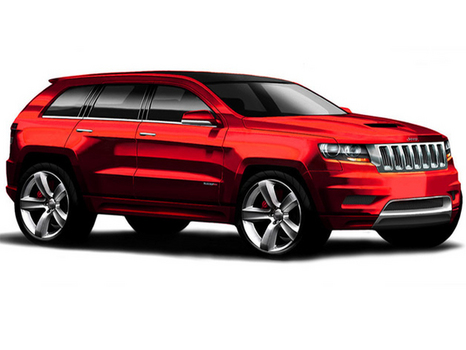 One thing is clear, the Germans and British guys are way ahead Americans when it comes to create strong SUV's developing hundreds of horsepower. Jeep Grand Cherokee SRT8 was once the king of sport SUV's but now he is history, being surpassed by models like BMW X5M, ML 63 AMG or Range Rover Supercharged, from the power point of view.
But keep your heads up because the next generation of Jeep SRT8 will come this summer, will be a great comeback according to MotorAuthority. The new model will come with a version with larger cylinders, the actual HEMI engine at 6.1 liter capacity was raised to 6.4 liter capacity. The exact power was not communicated, but to keep up with the competition the rumors are saying that Jeep Grand Cherokee SRT8 will have the power somewhere around 550 horsepower.
With all of those being said, if the new SRT8 will come with the right chassis settings and it will keep the weight low, the actual Jeep SRT8 will be smaller and lighter than a BMW X5M and X6M, the best SUV's from now.