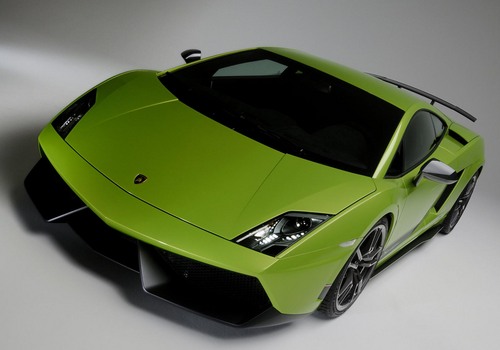 We have here the fastest Gallardo, I'm talking about the Lamborghini Gallardo LP570-4 Superleggera official presented with one night before the official disclosure. This Gallardo Superleggera takes very seriously the name that it carries and is the lightest street model that Lamborghini provides in this moment. Getting rid of 70 kg, this LP570-4 Superleggera weights only 1.340 kg.
If we talk about the power this improved Superleggera has with 10 horsepower more. That V10 engine at 5.2 liter capacity is able to develop 570 horsepower, so the mass/power ratio is spectacular. The power is delivered 30 % in the front bridge and 70 % on the back and obviously the performance is at superlative, Gallardo Superleggera being able to reach 100 km/h in just 3.4 seconds and the maximum speed is 325 km/h.
From the design point of view, the condition of this LP570-4 Superleggera is very good, many upgrades were made to improve the aerodynamics of the car, but also those upgrades improved the look too. The new Gallardo has a new aggressive spoiler to ensure a more natural air flow.