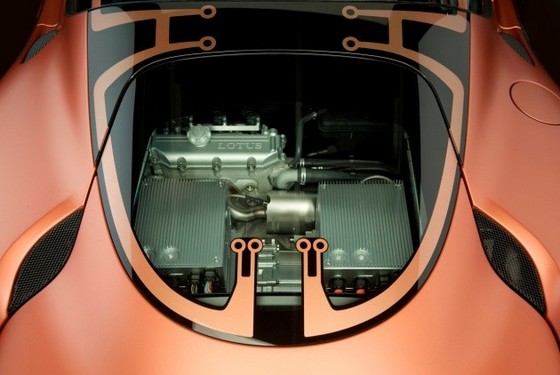 Among other things you will be able to admire the new Lotus Evora 414E Hybrid. This car is the result of the collaboration of Lotus and Tesla, they planned to create a new electrical hybrid and they did. As you probably guessed this Lotus Evora 414E Hybrid is propelled by electrical current, it has two electrical engines to be more specific.
It's equipped with a 3 cylinder engine having 1.2 liter capacity which develops 47 horsepower and it weighs only 85 kg, this engine is called Lotus Range Extender. The electrical aggregate outputs quite a serious power 306 kw (414 horsepower), which means that Lotus Evora 414E Hybrid can compete with serious supercars.
The Britain peoples are saying that Lotus Evora 414E Hybrid can reach 60 mph (97 km/h) in less than 4 seconds and if you really want that supercar feeling this hybrid comes with system which simulates a 7 rapports transmission. The batteries can be charged over the night at a regular, domestic outlet. From the pictures only thing that we can see are the internal circuits and the car color, other details you will see at Geneva Auto Show 2010.