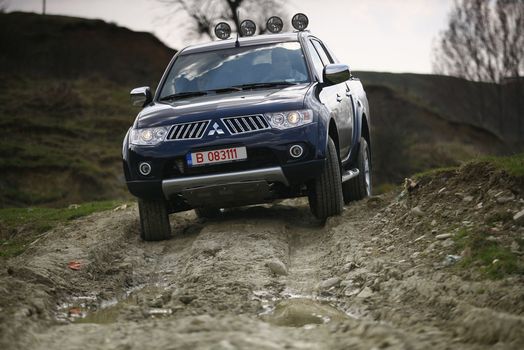 We has this Mitsubishi L200 as a subject a few weeks ago and I was impressed by what this car can do, and now it looks like it comes with a facelift, some good improvements I hope. This Mitsubishi L200 is one of the main characters in the pickup class and it managed so far to attract customers with real off-road talents, provided by the 4×4 system.
This L200 was launched some while ago and it started to get old a little by thanks to those truck forms. The actual generation is the fourth in the genealogic tree of the L200 model is she debuted in 2005 when the production was moved in the Mitsubishi MMTH plant from Thailand.
The new Mitsubishi L200 comes with a more aggressive look, some additional things around the headlights and a set of new wheels are completing the exterior changes. The L200's interior was also changed, they added sensor for automatic switching on and off the headlights and wipers. The levers and gear shifter are now more ergonomically and  in the top versions there are dressed in leather.