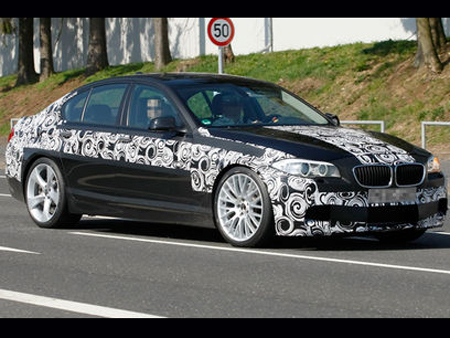 This new generation of BMW M5 will be an extreme sport car, the power will be incredible and is very close to the series version. This will be the most powerful BMW ever, coming with the same V8 twin turbo engine from BMW X5M, but on this model the power will go up to 570 horsepower and a torque of 650 Nm.
Compared with the recent version which has a V10 engine at 5.0 liter capacity and develops 507 horsepower and a maximum torque of 520 Nm, the new generation announces with 0.3 seconds faster, going from 0 to 100 km/h in 4.4 seconds. The actual RS6 will no longer be the fastest car from parking lot, and also the E63 AMG will be with 0.1 seconds slower than the future M5.
There is another barrier that BMW M5 must pass, it must be with 30% cleaner than E61 M5, and if this thing will happen, the new M5 will go a lot under the limit of 300 g/km. By comparison, Audi RS6 with its 330 g/km will appear to be a big polluter.