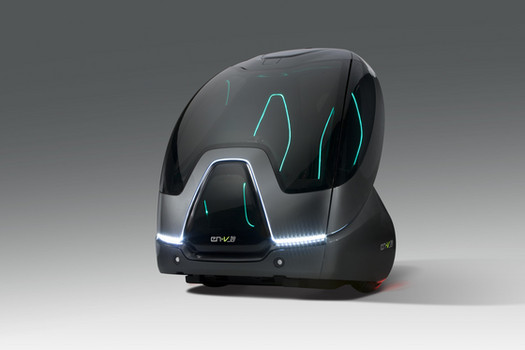 Even in this very moment the global population is increasing, and is increasing fast. In the year 2030 it is estimated that we will reach 8 billion peoples and 60% of them will live in crowded cities. In those days the transportation will be a problem and the solution might be GM EN-V.
The cooperation between GM and SAIC (Shanghai Automotive Industry Corp) will be made official with the occasion of Shanghai Auto Show 2010 through some concepts called EN-V (Electric Networked Vehicle). GM EN-V is a small electric vehicle based on a Segway platform which provides two seats. The GM EN-V's body is made from a combination of plastic materials and carbon fiber, so the total mass of the car is only 500 kg.
The electric engines are installed in the wheels and the GM EN-V's systems are controlled "drive-by-wire" style, and let's not forget that EN-V benefits of the great Segway technology of dynamic stabilization which provides the car great maneuverability. The lithium-ion batteries of the GM EN-V provide autonomy up to 40 km and through the communication with the general alimentation system you can choose different charging programs.