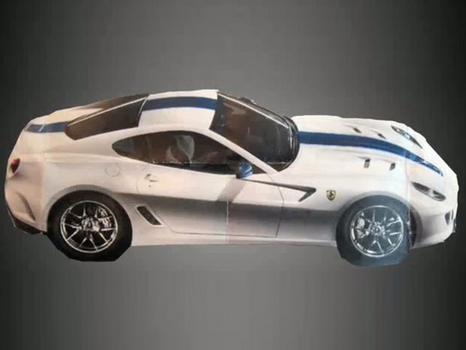 For those of you who want extreme performance Ferrari has a surprise for you, I'm talking about the Ferrari 599 GTO which is a car for adrenaline junkies and what you see above it suppose to be the first picture with this car. This Ferrari 599 GTO is not just a hunch, this model will definitely exist and will be a street version of the Ferrari 599XX.
I have doubts not about the car, but about this image presented in exclusivity by Fast Lane Daily in an online broadcast. The image is kind of questionable being extracted from another image, so we don't know how real it is.
They say that this Ferrari 599 GTO will come equipped with a V12 engine at 6.0 liter capacity and the power they say that will be somewhere above 700 horsepower. To go from 0 to 100 km this Ferrari 599 GTO will need only 3.2 seconds. So far we have only good things, the sad part is that only 500 copies will be made and probably the prices will be more than most of us can handle.