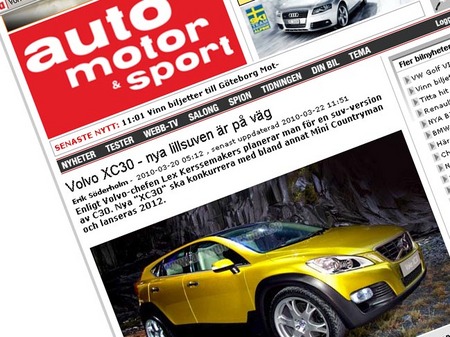 In the close future looks like Volvo will have a new crossover model, I'm talking about the new Volvo XC30 which by the way will be a worthy rival for the well known BMW X1. At this point we have only some sketches with this future come Swedish SUV called Volvo XC30 but for now it should be enough for a first impression.
Confirmed by Auto Motor Sport Volvo has big plans, a new model will join the SUV's XC90 and XC60 family, the new car having the name XC30 which will borrow the technical platform from Volvo C30 (that's not official by the way). This new Volvo XC30 should be released in the year 2012 and the motorization will be known from the XC60 and C30 models.
It's too early to say anything concrete about this SUV from Volvo but some things are known for sure about this car, like the fact that Volvo XC30 will have integral traction and Haldex clutch but will also be available with traction on only one bridge, the same like BMW X1 and the future come Audi Q3.