If you breakdown on a busy freeway, you have to take immediate action to stay safe. A disabled vehicle in the middle of the road, especially at night or around a curve, is a hazard for you and other drivers.
The key to safety includes following standard safety tips.
Get Off the Freeway
There are over 14,202 serious injuries annually in Texas alone due to car accidents. Drivers travel across 262 billion miles of Texas roadways annually. Breaking down is more common than you think, but it's the steps that you take after a breakdown that matter the most.
Your goal should be to get off of the freeway and go to a parking lot that is well-lit.
If you can push or drive your car to this safe location, it's your absolute best option when breaking down.
Pull Off on the Shoulder
Sometimes, your automobile may have sustained too much damage or is in such a state that driving a little further to a parking lot is impossible. When your engine is overheating, smoking or the vehicle has stopped responding to the accelerator, you should try to pull to the shoulder of the freeway.
The shoulder is still much safer than being stuck in the middle of the freeway.
If possible, pull the vehicle off to an area that is:
• Well lit
• Not around a curve
Other drivers will have a much easier time seeing your vehicle if you pull off on a straight part of the road where visibility is optimal. A lot of broken-down vehicles that are left in the middle of the road cause subsequent accidents. If you are injured in an accident on the shoulder you will want to call an auto accident attorney to discuss your case.
You'll also have a much easier time re-entering the roadway if you can repair the vehicle on the spot.
Stay in the Car If Disabled in Traffic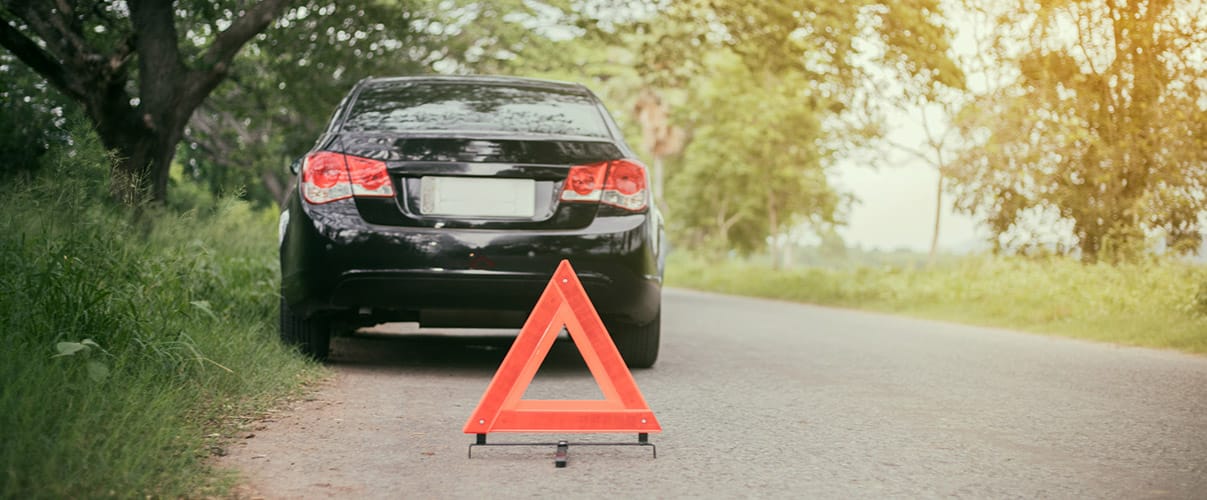 There are times when cars stall in the middle of the road with little-to-no warning. If your vehicle stalls, you won't be able to pull to the side of the roadway. While your first instinct may be to leave your vehicle and flee to safety, it's safer to stay in your vehicle and put on your hazard lights.
Call the Department of Transportation or call AAA to have your vehicle towed.
Many insurance companies also offer free towing for a certain mileage range from where your vehicle is located.
If your vehicle is smoking or is it risk of catching fire, you will want to try and get to safety.
Follow Basic Safety Tips When Breaking Down
Basic safety tips can go a long way in ensuring that you remain safe if your vehicle breaks down. A lot of people don't know what to do if their vehicle is disabled. If you've never been in this situation before, the tips that can help keep you safe are:
• White cloth. Roll down your driver's side window, hang a white cloth from the window and roll the window back up. The cloth is a good visual indicator that can help prevent other motorists from hitting the vehicle. If you don't have a white cloth, a bright colored cloth or paper will work.
• Call for assistance. If you need help, you'll want to pull over to the side of the road and use your cellphone to call highway patrol, AAA or a tow truck. You may be able to find an emergency call box on a freeway, but since most people have smartphones, only a few of these boxes exist.
• Reflective markers or flares. Visibility can mean the difference between a disabled vehicle causing an accident or not. You can use road flares or reflective tape to make your vehicle more visible at night. You'll want to place the reflective markers or flares about six feet behind the vehicle.
If you have a flat tire or a relatively easy repair that can be made, do not attempt to make the repair in the middle of the highway. Only attempt to work on the vehicle when it can be done safely.
Consider Joining AAA
AAA, or similar associations, can help provide key assistance if you're stuck on a freeway or any roadway. These are services that you hope you never need, but they can be invaluable if you're ever stuck on the side of the road.
Some of the many benefits offered through AAA are:
• Towing services
• Flat tire replacement
• Emergency fuel service
• Dead battery replacement or jumpstart
• Minor mechanical service
You may also be able to pay additional money to your insurance company that offers a similar service. If you have a long commute or use freeways or interstates often, a little additional protection if your vehicle is broken-down is highly recommended.
Staying safe during a breakdown starts with you.
The tips above will help you avoid harm's way while allowing for a tow truck or help to come. Call your local Department of Transportation to notify them of your vehicle being disabled on the roadway.