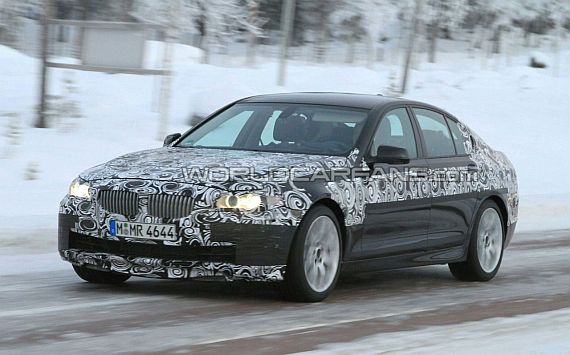 Finally some spy photos come to the surface, we only heard about a BMW M5 in year 2011 but now we can admire it from the images. Well, just look at her, is inspiring speed and comfort in the same time. If you want peoples to turn their heads when you pass through this BMW M5 is definitely the car for that.
When I said that this BMW M5 is inspiring speed I was not bluffing, this car comes equipped with a V8 engine having a 4.4 liter capacity, which is able to develop a maximum of 578 horsepower. Also can develop an impressive torque of 531 lb-ft and is capable of reaching 100 kilometers per hour in just 4.4 seconds.
Those were all the details collected about the future come BMW M5, is not much but I think that's enough for you to make an idea about how it will look or how powerful this beauty will be.  Of course the info will come as we close more and more to the release date which will someday in 2011.