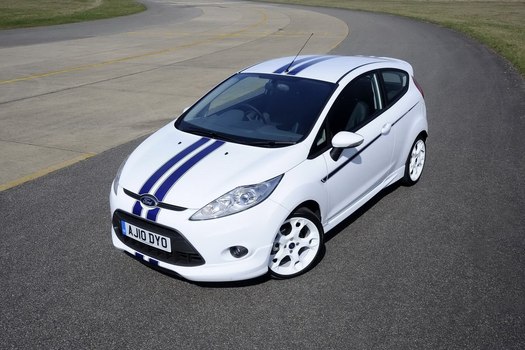 Until they will launch the Fiesta with EcoBoost engine, Ford worms us up with another version called Ford Fiesta S1600. Even though the car is marked by the S1600 indicative, which makes us think about the previous rally versions, this one doesn't have a high rally potential. It's true, the appearance is sport, with those traditional blue stripes, 17 inch wheels and spoiler.
The interior was equipped with sport leather seats with Motorsport inscriptions which gives the car a hot hatch character. The motorization is not that impressive, the Fiesta S1600 coming equipped with a Duratec engine at 1.6 liter capacity being able to develop 120 horsepower. Let's not forget about the other one, a TDCI engine at 1.6 liter developing 90 horsepower.
If you want a power increase, for some more money you can order a tuning from Mountune which raises the car's power up to 140 horsepower. With that power increase the Ford Fiesta S1600 will be able to reach 100 km/h in 7.9 seconds. In case you wonder this Fiesta S1600 costs 19.273 euro, if you want more power you need to pay 2.000 euro extra.