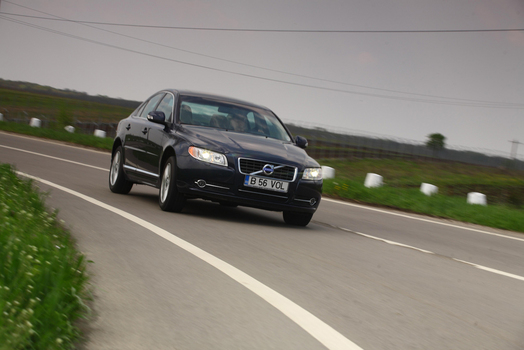 Maybe you noticed that this Volvo S80 facelift version doesn't come with big changes, the only major changes from the exterior point of view is the new frontal grille with a bigger logo, a new spoiler, the chromium insertion from the back and the Volvo inscription from the trunk which is bigger now.
If you take a look in the interior, the steering wheel is slightly different, the new thing is that metallic insertion in the lower side, and that's it. The materials used are very good, not even a Citroen C6 or Lexus GS doesn't have this kind of material quality. The wheelbase size of this Volvo S80 is at the same level with the one from Audi A6.
From the power point of view, this Volvo S80 comes with a small boost. The new D5 turbodiesel engine develops 205 horsepower, compared with the 185 horsepower from the version without facelift, I'd say that's a pretty good improvement. Both engine versions were tested and to be honest, those 20 horsepower are pretty obvious, you can feel them from the start.