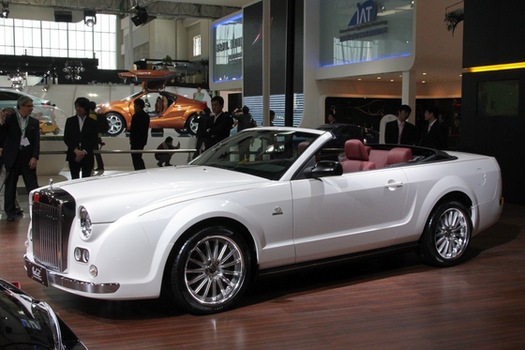 What you see in the pictures is called Mitsuoka Galue made in China, and many will agree with me when I'm saying that this car will not win any beauty contests ever. Before we continue I need to mention that Mitsuoka is a small Japanese company, which sometimes makes some mistakes.
Is not the first time when we hear about this Japanese company, they basically take popular cars, and transform them. When you look at the pictures, probably 90% of you will see in this Mitsuoka Galue a Bentley Arage, thanks to that huge grille Bentley style, and those two round headlights. The back is the exact copy from a Cadillac Eldorado limousine from '90.
This Mitsuoka Galue Convertible was conceived starting from another American model, I'm talking about the actual Ford Mustang. Is a shame that he was downsized like the way you see in the pictures, when I'm saying downsized I'm referring to its character, beauty, design, style and everything. The original interior was kept, only the steering wheel was changed, the car remaining a cabriolet with four seats.