U.S. Transport Secretary Ray LaHood has been on a courtesy visit to Toyota Motor Corporation's headquarters today and he stated he felt encouraged by the steps the company has put in place to improve vehicle safety but is still a bit reticent.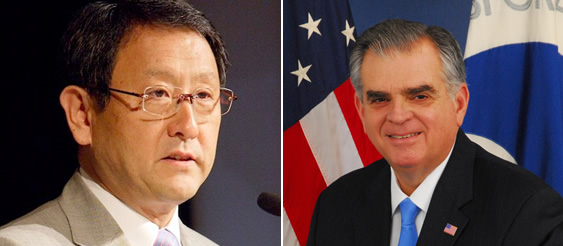 He did say, however, that he will only be fully convinced when Toyota's cars actually become safer.
According to the Transport Secretary they company has put in place some measures that will enable the Department of Transportation to have a better handle and a better form of information if they're carried out.
He and Akio Toyoda have had a conversation and the most important information exchanged was that these measures are important but there is one American colloquialism that sums up the situation properly: "the proof is in the pudding – time will tell".
LaHood has also made a warning that additional fines are possible as U.S. auto safety regulators worked through 500,000 pages of documents in efforts that could take at least a couple of months to complete.
So while Toyota may have gotten better it's not quite out of the woods yet as the despite the massive $16.4 million NHTSA fine paid may have a sequel.