Audi A7 Sportback is introduced to the public by a video launched by Audi TV. The model will be launched on 26 July. The Ingolstadt manufacturer will launch the Audi A7 Sportback in Munich, the teaser video launched by Audi confirming this and giving fans the patience needed until the launch.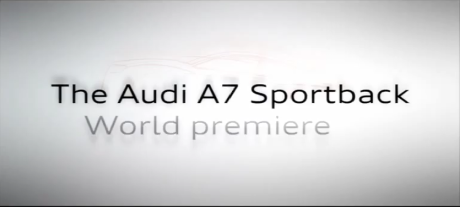 The Audi A7 Sportback will be offered in a various range of engines. A supercharged engine of 3.0-liters with eight cylinders will be available for Audi A7 Sportback, the engine of the German model being capable to develop 268 hp.

Also a V8 engine will be available, the engine being capable to develop 372 horsepower. Until the launch that will take place in few days, we can admire the teaser video created by the Germans. As you'll see in the video, the launching event from Munich will be also live on Audi TV, so, you can watch it live on the Internet.