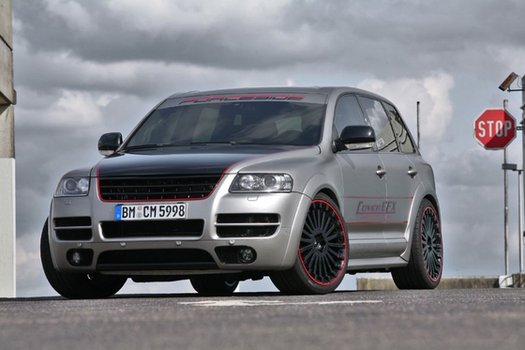 Even though the attention of the crowd is now on the new version of Volkswagen Touareg, the first generation remains very attractive, for second hand cars amateurs or for those of you who like tuned cars. For those of you who are familiar with Volkswagen Touareg phenomenon, you probably know that the car is powered by a W12 engine at 6.0 liter capacity which develops 450 horsepower and a torque of 600 Nm.
There are some peoples that don't want to buy a BMW X5 M or a Porsche Cayenne Turbo, they want a super powerful Touareg, so the tuner CoverEFX took care of this.  They added an extra 50 horsepower to the power by reprogramming the ECU central unit, sport air filters and a new line of exhaust system Cargraphic.
Also CoverEFX changed some aspects to the exterior. They gave this Volkswagen Touareg a proper look for a circuit, I'm talking about modified back and front spoilers, side skirts, lowered suspension, a small hayon spoiler in the back and an interesting combination of silver-black color for the body, very inspired.