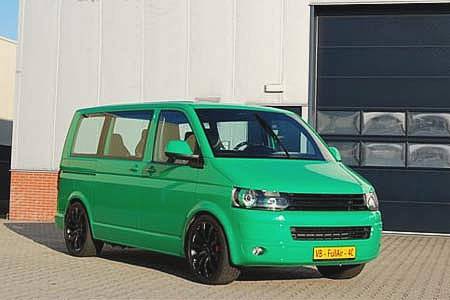 Having a Porsche 911 prepared engine Volkswagen Transporter TH2RS is a very fast car, even faster than a BMW M3! In fact this model is not only a powerful utility car, is a utility car that can beat even some supercars, see for example the Audi R8. The secret lies under the hood, where it was mounted a Porsche 911 Turbo engine, which through the intervention of the 9ff has climbed to 800hp.

So those from TH, the people who have turned, literally, the T5, in a Hulk, were presented with their new toy on the circuit at Nardo, with the bold goal of reaching 300 km/h. They were surprised that the maximum speed shown on the GPS is even more impressive, actually appearing 310.7 km/h.
Unbelievable for a model that was designed for something else and to whom you give more opportunities to disintegrate or to overturn at that astonishing speed. Another advantage is represented by the special suspension which becomes stronger as the speed increases, improving the stability. Also, this model comes with a set of Brembo brakes for endurance. All the car occupants will be well "immobilized" in the Recaro seats.