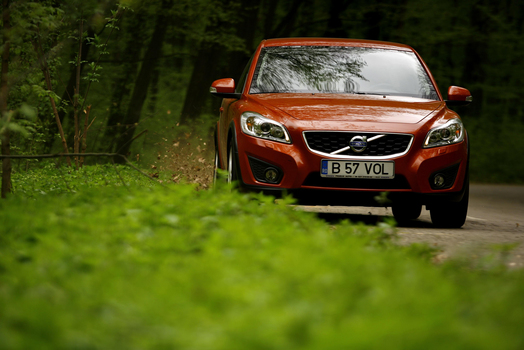 First of all this Volvo C30 has a problem with the steering wheel position, this car is for those of you with long legs that prefers to drive with the steering wheel highest possible. Also the visibility on the side-back is kind of weak. The car weighs almost the same like an 118i with three doors.
But the BMW is faster with almost one second from 0 to 100 km/h but I'm not going to make this kind of comparisons. This Volvo C30 comes with a gasoline engine of 2.0 liters developing 146 horsepower and is not that slow as you think. The superior version of motorization is a 2.4i, but to feel a maximum driving pleasure the best engine is a T5, a turbo with 5 cylinders which develops 230 horsepower.
That kind of engine is found under the Focus ST hood. That 2.0 liter engine that develops 146 horsepower has a quite sport behavior in the first two stages, when it goes fast from a fixed point, the torque-steer phenomenon is happening and the engine sounds pretty good.