Whether you are moving into a new house or looking for upgrading your current garage to a new level, all you need are certain must-haves that you can't do without.
Equip your garage with these 10 essentials and say goodbye to messy and low efficient car work!
Safety Gear
Any mechanical work should start with adequate safety.
Safety is always the priority in doing any garage-related work as it involves a lot of machines and chemicals.
Safety measures can never be too much, however, at the very least, you should prepare a list of these essential safety gear: a pair of gloves for protecting your hands, a pair of safety goggles for chemical splash protection, and a first aid kit for emergencies.
Make sure you put your safety equipment on hand so that you can find them easily and make use of them frequently.
Basic Toolkit
Having the right tool for the right job will make any task so much easier and fairly saying, you can never have a large enough toolkit as there are an array of useful products to choose from.
However, a set of basic tools can meet most of your day-to-day needs. Thus it's wise to start with the basics and build up as you go.
An indispensable toolkit includes different sizes of screwdrivers, a good selection of wrenches, pliers, spanners, wire cutters, hammers, and tape measures.
Don't underestimate the importance of good quality tool kit and simply go for cheap ones which cannot guarantee long-lasting use.
In fact, a basic toolset is what you use the most for mechanical work.
Therefore, it's worth splurging on a comprehensive well-made kit and makes them last for you even in the next decade.
Storage Space
When you have a garage full of stuff, you'll need an organizational solution to store all of it.
We highly recommend these possibilities for item storage to avoid a cluttered garage.
Storage Hooks: the easiest storage solution that makes the most of your garage storage space. You can find sturdy and durable storage hooks in various sizes, which work great on hanging items like ladders, ropes, cords, and even some power tools.
Tool Chest: a functional tool chest can assist you to get rid of the clutter of numerous items so that you can find the appropriate tool quickly and worry less about losing small accessories.
Storage shelves: a well-organized garage cannot lack heavy-duty storage shelves. One of the most worthwhile investments you should make for our garage is the adjustable metal storage shelves which can keep plenty of tools, whether small knick-knacks or large power tools, in an orderly and tidy manner.
Wall Storage: a variety of wall storage options are available, from wall-mounted cubbies or cabinets to pegboard organizers with slots and hooks to hold your tools and accessories. Utilize your walls to their fullest.
Overhead storage racks: additional storage space becomes critical as your garage stuff accumulates over time. Overhead storage racks can store bulky items that you don't use often while freeing up your valuable floor space.
Workbench
One of the most essential items you must have in your garage is a solid work table or bench.
A sturdy workbench will be central to many of your projects, including car-related work and non-car-related work like sanding, cutting, gluing, clamping and any sort of metalwork, benefiting you to tackle the task at ease and safely.
Thus, the stability and durability of the workbench should be highly valued.
Follow the traditional route with a waist-height option which will help prevent you from having to bend or crouch excessively, avoiding muscle pains and back problems.
This workbench should allow you to assemble and disassemble car parts without losing widgets in crevices and ruts, or without small pieces getting lost.
Power Tools
Just admit it you can't avoid drilling holes in things.
A power toolset is the advanced version of the ordinary repair tool kit, effectively saving your time and helping you reach cracks that are hard to get with your hands or repair tools.
A full set of power tools, which may include electric drills, saws, sander, router, planer, angle grinder, and so on, can assist you to make the most out of your workshop.
You probably will say you don't need all of them, however, at a bare minimum, every garage should have a power drill with a presentable drill bit set and an angle grinder to be the last resort to solving the problem.
Don't forget to choose the cordless power tools and you will thank me later for the great convenience and portability.
Jacks & Jack Stands
No matter what type of car you own, brand new or second-hand, you'll very likely need to get the car off the ground to work underneath it at some point.
Whether it's for changing tires, draining oil, or doing car maintenance, a strong and reliable lifting jack is required for a stable and safe lift up.
There are two key elements to consider when buying a jack, namely high lift, and large weight capacity.
A high-lift jack ensures you have sufficient space to work under the car, while the weight rating that sturdily holds your car's curb weight protects you from being hurt by the collapse.
You don't need me to tell you that several tons of metal landing on you could crush your body!
More importantly, always jack up your car on jack stands for double safety.
Bench Vise
After your workbench is set up, you'll need a bench vise to help you hold and grip whatever you are working on in place.
Acting like an extremely strong hand that can grasp a great weight with superior clamping force, a bench vise makes a critical difference in performing garage tasks like sawing, cutting, chopping, carving, etc.
The bigger bench vises open wider and have higher clamping force to firmly secured to your workbench and tightly hold your projects.
Avoid poorly manufactured cheap vises. Invest in a good one and you won't regret it.
Air Compressor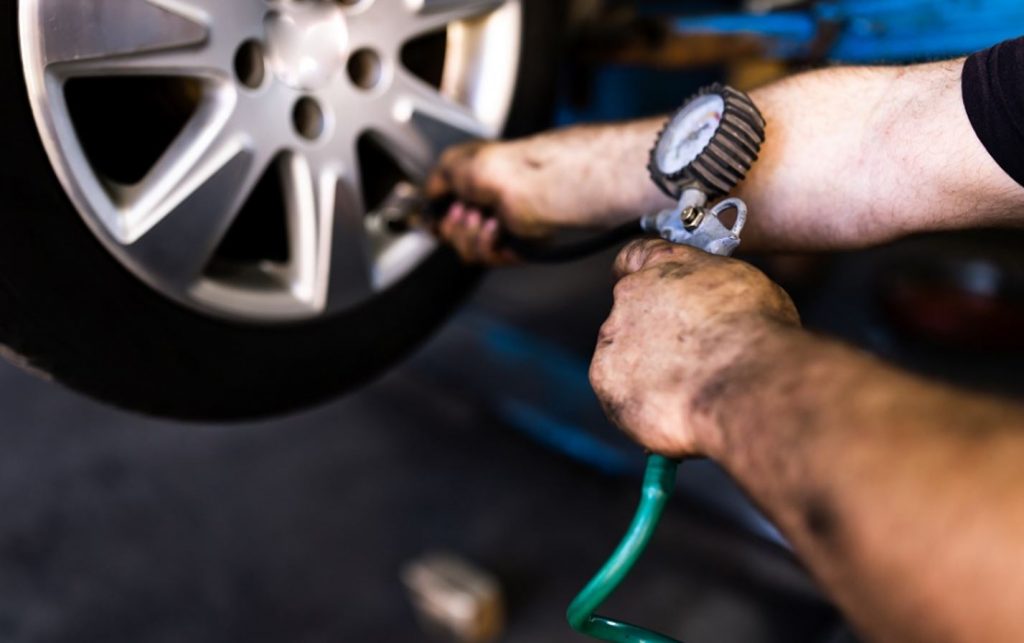 If you spend a lot of time working on DIY projects in your garage, an air compressor is a necessity for you.
Whether it's for inflating your tires, blowing cutting debris, cleaning dusty nooks inside your vehicle, powering air tools, or spray-painting equipment, a versatile and reliable air compressor is your all-time wonderful assistant.
A good tip for buying an air compressor is to go big. A bigger air compressor creates more pressure that gives you more air to use.
Another thing that needs to be mindful of is, make sure the voltage of the air compression you purchased is applicable for your residential garage use, instead of a commercial unit that requires a higher voltage.
Good Lighting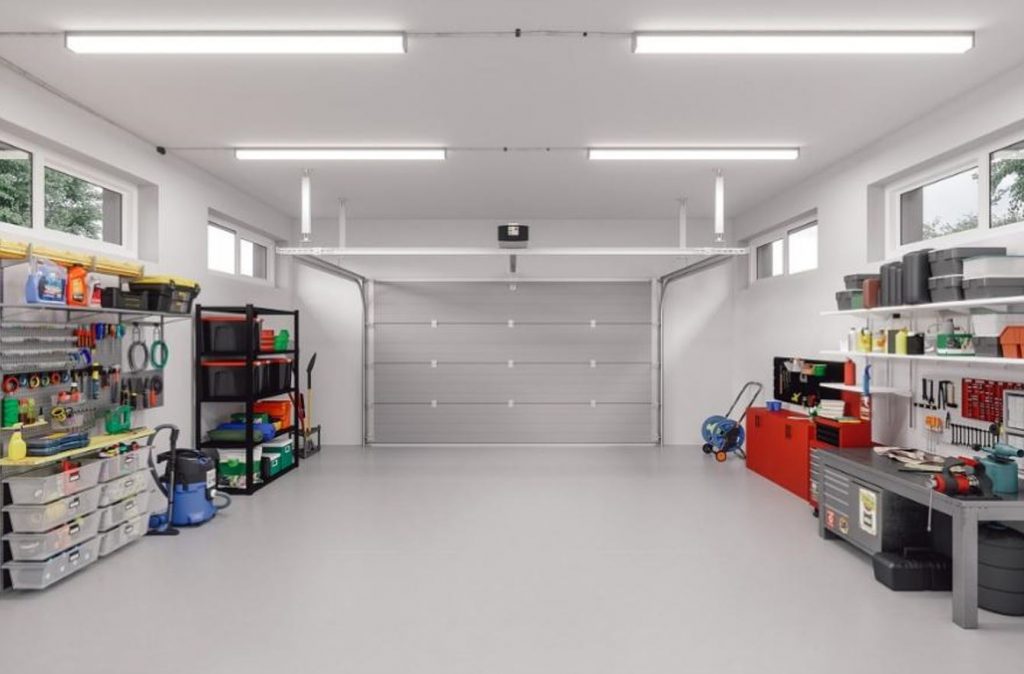 As you may have experienced, not being able to see things clearly when doing garage work could be such a pain as dim lighting often impedes or even fails your work.
Upgrade your garage with sufficient lighting featuring lots of clean and diffused light coming from multiple sources to block shadows.
A pendant or recessed lighting fixtures are recommended for a well-lit garage.
Another clever product to take note of is a portable work light, which can cast illumination into crevices for your work underneath the car or scanning across the floor to search the lost small hardware.
A super bright and wireless LED work light is a great option as it lasts longer and produces less heat.
Proper Flooring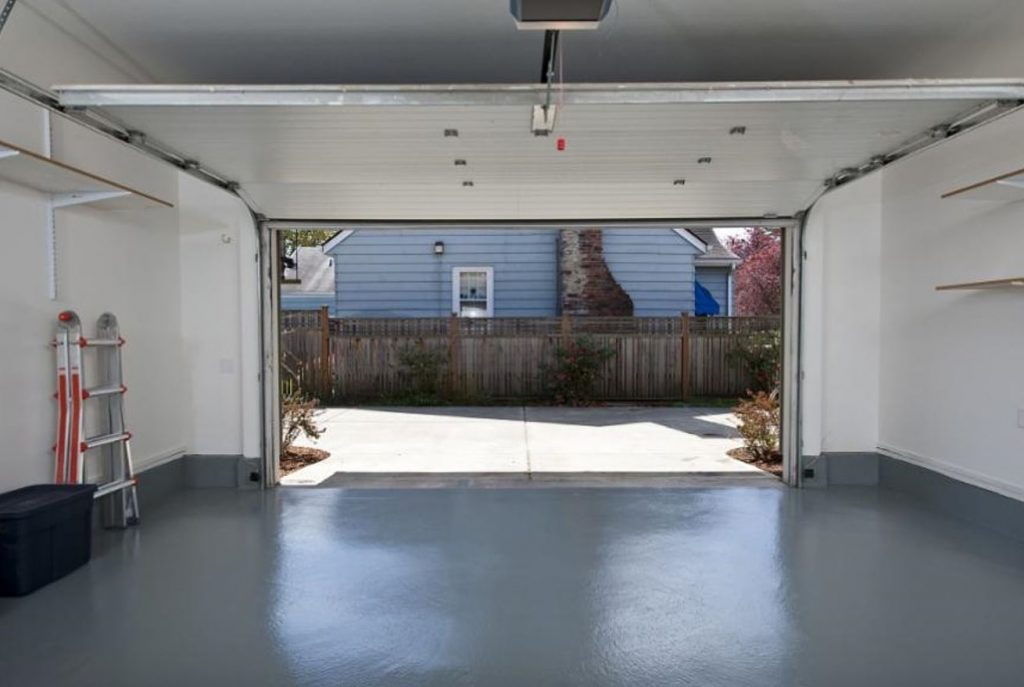 Bothered by the oil spots, spills, paints, or stains on your garage floor?
An absorbent mat or self-leveling floor can be a great solution for you.
As the name suggests, the absorbent mat functions in absorbing liquids, preventing the liquid substances to leak into the floor or leave dirty marks on the floor.
The self-leveling has a stunning performance on filling in cracks and creating a smooth stain-free floor surface, which makes your garage look more attractive and inviting.
Apart from the stains concern, a hard concrete floor may add more strain to your back and feet especially after a long hour working on your workbench.
An anti-fatigue mat or a cushioned flooring mat can help soothe your body fatigue and protect you from slipping on a greasy floor.
About Costoffs
Costoffs, established in 2003, is a professional brand specializing in home and office furniture. With 39 self-own warehouses worldwide, we deliver a wide selection of quality furniture products within 3 days locally and support 30 days no reason to return and exchange goods policies.
Operating our markets in 10 countries covering Northern America and Europe for more than 15 years, we have successfully become an industry-leading furniture brand with 1.9 million global sales.
Through continuous effort, we gain Best Seller among Furniture Supplies on over 10 online shopping platforms, including Amazon, Walmart, eBay, Wayfair, Wish, Cdiscount, ManoMano, OTTO, Rakuten, Real and more.
We commit to providing the best comfort and enjoyment for your home and office.