About a year ago, Mercedes introduced the first-generation CLA Shooting Brake, a high-performance wagon that seen a pretty good feedback from the customers. This time, we get to see the upcoming facelift version, in a spy video that shows us the modifications prepared by the Germans.
At the exterior, the 2017 Mercedes CLA Shooting Brake comes with revised optical blocks as well as tweaked bumpers. LED headlights and taillight will be offered as optional on the new model, compared to the current bi-xenon option.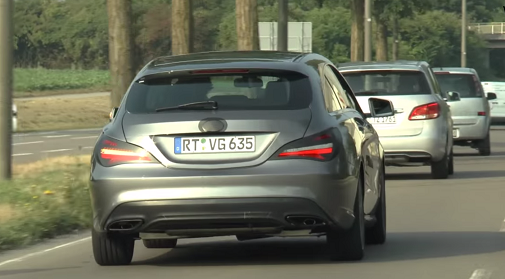 Most changes will be seen at the interior where the facelift model will get Android Auto and Apple CarPlay, new technologies that are implemented slowly in more and more models.

A new infotainment system with larger touchscreen display is also expected to be seen. Slightly revisions to the engine line-up might come but don't expect anything big.
All in all, we talk about a facelift model not an entirely new car. Be sure to check the spy video above for a closer look at the German wagon.
Spy Video: YouTube (Walkoart)