The world's most iconic supercar makers, the Italians at Ferrari have just opened a new store, the 37th in all.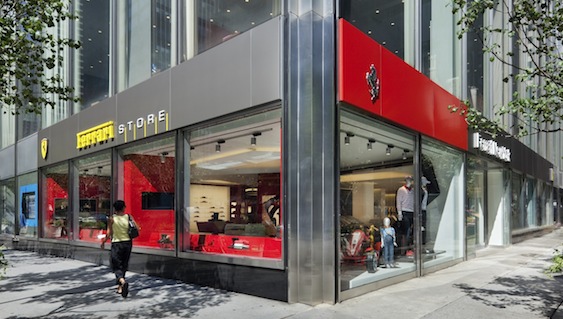 The new Ferrari store is located in New York City, in Mid Manhattan.

The new location offers up 200 square metres space all of which are dedicated to the Ferrari Store, sitting next to the Ferrari Showroom. The statement from Ferrari fills us in on a lot of the bumpf but what you really need to know is that the exact location is situated on the corner of Park Avenue and 55th street, with windows on Park Avenue.
This apparently makes it a prime Midtown Manhattan location off Park Avenue, since it is mere footsteps away from the impeccable shopping destinations of Madison and Fifth Avenues. This all sounds very exciting but somehow I don't see people who shop on these locations being to sort of persons that wear Ferrari T-Shirts. Maybe the Italians have some branded smoking tools?
A private event was held on Wednesday to celebrate the opening of the store with Hollywood stars and some special Ferrari vehicles. On hand were the 1959 250 California and a 1984 GTO, the new 458 Italia, Ferrari California, the 612 Scaglietti, and the special limited edition that is the 599 GTO.