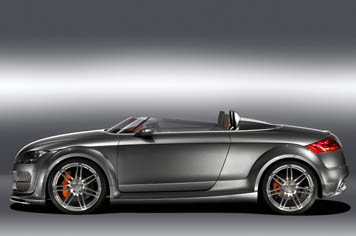 Since its first appearance in 1999, Audi TT has been costumer's favorite. Even so, this two-door vehicle got its share of criticism for the less inspiring powertrain lineup.
Most of the complaints this model received will be rectified with the debut of the new and more powerful TT RS, in just a few weeks from now.
It seems that Audi has chosen to unveil the Audi TT RS at the Geneva Motor Show, in March. The car is expected to have a turbocharged five-cylinder, a six-speed manual gearbox or an optional DSG unit and 350 horsepower.
The convertible version of the Audi TT RS is expected to appear the first time on the Frankfurt Motor Show in September, but we wouldn't be very surprised to see both cars at the Geneva Motor Show.