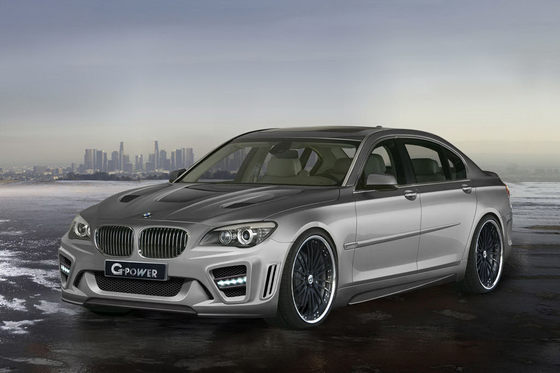 We already get used with G-Power's tuning capabilities, we already know that they can make an engine almost twice powerful, well, now G-Power has a gift for those who waited BMW M7. If you are a success business man, the proper car for you is BMW 760Li of course, having a V12 bi-turbo engine developing 544 horsepower it satisfies your adrenaline needs, but maybe you want something more and for that you contact G-Power.
If you look at the exterior of the BMW 7 Series Storm your first observation will be that carbon and Kevlar which makes the car look very aggressive. The spoilers are cool and efficient too, the front spoiler has big ventilation holes which benefits of great air intakes.
Obviously this car was made for speed, coming with side sills, great sport wheels having from 20 inches up and let's not forget about the lowered suspensions. The engine was modified too, they increased the alimentation pressure of the bi-turbo system and now the power increased to 725 horsepower and the torque has reached 1.000 Nm. This BMW 7 Series Storm goes from 0 to 100 km/h in 4.2 seconds.