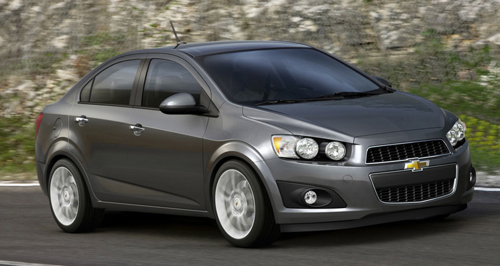 The Americans are saying that those are the first "official" photos with Chevrolet Aveo Sedan but that remains to be seen. We all agreed that this Aveo Sedan is a big step forward for Chevrolet but the guys from cars.com rushed to expose the pictures with what it claims to be the actually Chevrolet Aveo Sedan.
Ok, let's say that those are the actually the photos with the future come Chevrolet Aveo Sedan and see what this car promises. If you look at the front side you will notice that "angry look" which is accentuated by those really cool headlights. The back of the car looks really big, maybe bigger than actually Aveo sedan.
Chevrolet sais that Aveo Sedan will have a very modern interior with cool accessories and of course it will be equipped with high quality materials. If you look at the pictures really carefully you will notice some errors, facts that profess us that the pictures are not what they claim to be, I'm talking about the speedometer, he display 102 mph but the rev counter shows us 0.