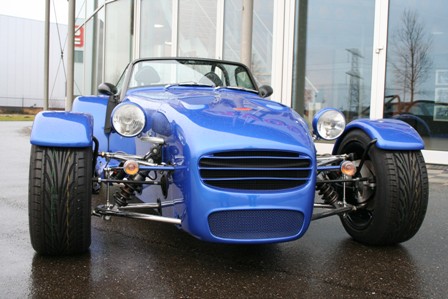 I will use the term upgrade instead of facelift because we can't really tell that Donkervoort D8-235 E 2010 is a facelift, is too much said, is rather a small upgrade of a model for tourists. This Donkervoort is not very popular, not a lot of peoples heard about it, even though he has a good place in TOP 50 exotic cars.
The year 2010 looks promising for this car, the Dutch peoples upgraded the version Donkervoort D8-210 E and they expect good results from that. This new version has a new reprogrammed central control unit, has some new air filters and evacuations to increase the engine power.
Donkervoort D8-235 E 2010 has a turbo engine at 1.8 liter capacity from Audi, and the power increased from 210 horsepower to 235 horsepower. Also the torque increased with 30%, from 316 Nm to 41Nm. This new Donkervoort is pretty light too, weighting 735 kg, which brings a mass/power report of 3.12 kg/ horsepower. Besides that they added some elements used on the GT4, so I have to tell you that the sport feeling is guaranteed.