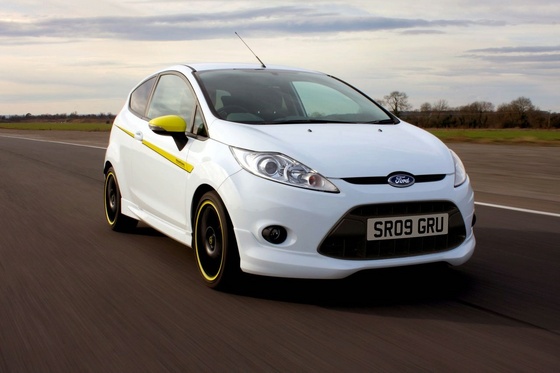 Surprised during the tests on the USA streets the new Ford Fiesta hot hatch version made a good impression with her EcoBoost engine. This Fiesta EcoBoost in the hot hatch version is something sure being already seen on the USA streets, and  from the design point of view look very much alike the version made by those from Moutune (the one from the pictures).
From the motorization point of view this Ford Fiesta EcoBoost (I will call it like this because it doesn't have an official name) comes with two possible options. First is the EcoBoost engine having 2.0 liter capacity which develops somewhere around 240 horsepower and most probably will be equipped on Ford Focus ST. The second one will be a 1.6 liter engine.
Choosing the second engine comes more natural being able to develop a power between 170 and 200 horsepower, the exact number is not known. This Ford Fiesta EcoBoost is one of the lightest cars from her class and the performance sounds promising. There are some good chances that this new Ford model to be called Fiesta ST, that remains to be seen.