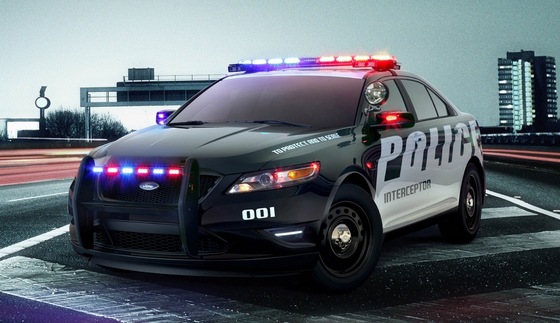 Soon the USA police will have a new car park and there we will find the Ford Taurus models specially made. So as you probably figure it out this Ford Police Interceptor from the pictures will also be there. Those three pictures are the first official which debuted on the internet, so if you want to see this car from other angles, well, you will have to wait.
Ford will present the new Police Interceptor in a private event in Las Vegas tonight. This car wasn't made just to be admired  in the spotlights, starting from the series Taurus model they managed to create this version for the police specially to replace the actual Crown Victoria models, which by the way will be taken out in September next year.
Ford didn't provide details about the technical part but is possible to talk about two versions of cars. The first one with front wheels transmission and a V6 engine which could be the base engine special for everyday use. The real Ford Police Interceptor will be equipped with a V6 engine at 3.5 liter capacity developing 355 horsepower with integral transmission.