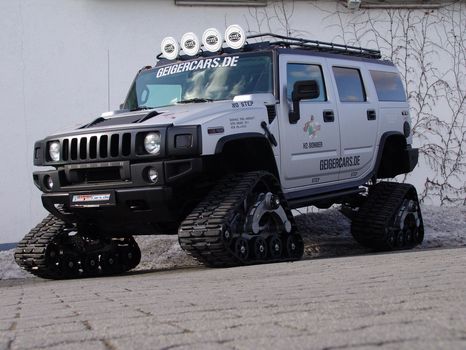 When you look at the pictures just one thought is crossing through your mind, this Hummer H2 Bomber developed by the tuning house GeigerCars is the perfect off-road car. This car goes everywhere and passes above anything thanks to those tracks. Those from GeigerCars had just one objective in mind, they wanted to transform the well known Hummer H2 in the supreme off-road car, and they did.
As you already noticed they replaced those four wheels with track systems made of rubber, so the grip is perfect being able to handle rough situations. Each track is measuring 150 cm length and 40 cm width, so theoretically there is no obstacle for this traction system.
To handle any situation this Hummer H2 Bomber comes equipped with a huge V8 engine at 6.2 liter capacity being able to develop 398 horsepower and a torque of 574 Nm. To make the things even more interesting, GeigerCars equipped the car with a GPL alimentation system and the capacity of the gas tank is no less than 155 liter. GeigerCars made an impressive job with this so called Hummer H2 Bomber.