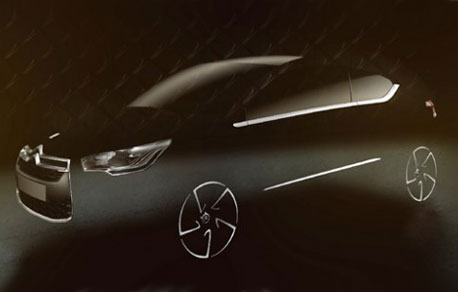 Citroen DS4 is slowly removing his camouflage clothes. French manufacturer presented few days ago the second teaser of the prototype. Citroen presented the second official teaser of the concept which will arise the new DS4, the second representative of the DS premium range. After we could see a figure that says nothing about the new concept line, today we have a clearer teaser image of the concept, certain design elements are underlined and highlighted.
We can observe very clear the shape of the optical blocks, which represents an evolution from the DS3's, but the fact that brother of the future premium C4 will have three doors, eliminating rumors that he turned into a coupe with four doors. According to preliminary information, the new DS4 will take the place of the C4 Coupe in the current range, the classic C4 version following to be built exclusively in the five-door version.

The concept that anticipates the new DS4 will be presented at the Geneva Motor Show in March 2, following that the series version to be launched simultaneously with the next C4 generation at the Auto Show in Paris in the autumn of this year.