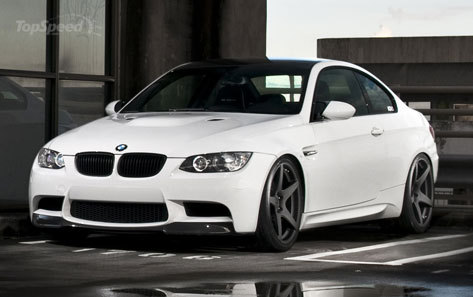 I'm well aware that you all know the BMW M3 car, it's a very popular car, very well sold, with an amazing performance and let's not forget that "bad boy" design. Well now we have here a tuned BMW M3 by the Avus Performance, for those of you who don't know what Avus Performance is, well, those guys are a tuning German company.
From the pictures you will notice the appearance, you will notice that is almost entirely changed (improved if you want), now the BMW M3 has better look and better aerodynamics, she behaves much better on the track. Starting from the front, the car was equipped with a more aggressive look, with a carbon fiber front lip and larger air intakes.
Also BMW M3 has new side skirts and a carbon fiber diffuser and new spoiler with a carbon fiber edge in the back. This beauty wears some impressive set of wheels, a set of ADV 5.1 measuring 20 inches in diameter. To release some more horses under the hood they equipped this BMW M3 with a sport tuned exhaust and let's not forget about those sport suspensions.