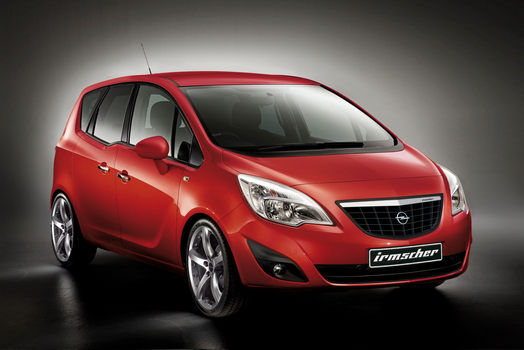 The newest product from Opel about many of you might say that's a car dedicated for mothers, I'm talking about the new Opel Meriva of course, show's us now that it can be cool too, now equipped with the MPV sport package. It's true what they say about the rims, that some big wheels can change the cars appearance.
Let's take this Opel Meriva for instance, which is I very nice vehicle I give it that, but is not a conversation subject between mans in a bar, but now with those 18 inch or even better, 19 inch wheels the attractiveness factor raised very high. Let's not forget that those rims were highlighted by the suspensions, which were lowered with 30 mm.
At the exterior the observable changes are the double evacuation, the spoiler and the grille, specific Irmscher. At the interior were made changes too, I'm talking about those seats dressed in leather, the doors skins, and some aluminum inlays on board. I don't think that peoples will fight on this Opel Meriva by Irmscher but at least will occupy a place in the Tuning Showrooms.